First dates always tend to be a little formulaic. Dinner, drinks, perhaps a movie. You're concentrating on trying not to eat weirdly in front of the other person as you struggle with a rather formal conversation, followed by sitting in silence at the cinema. It can be stiflingly awkward.
But if you're here, then you're likely taking control of your dating life, and not wanting to waste your time on tepid conversation and awkward company, or 'hardballing', as it has been called. So why not try something completely different next time you're planning a date?
We have a look at some unusual but awesome first date ideas!
1. The Supermarket Challenge
This is a great idea for those with a competitive streak. Meet at a supermarket, particularly a larger one that sells more than just groceries, and give each other 10 to 15 minutes to run around the aisles to pick out goodies for the other person.
It could be a scavenger hunt, with certain items to find, or you could shop for wine or chocolate to share, or even pick up supplies for an impromptu picnic (see next idea!). However, set a limit, £20 for example.
2. A night picnic with stargazing
Kate Winslet's character from the film Eternal Sunshine of the Spotless Mind says that 'night picnics are different', and she's right. There's something very romantic and dreamy about eating picnic foods on a blanket under the stars.
Maybe take some binoculars and a map of the night sky so you can find your way around, picking out planets and constellations.
3. A triathlon date
Thankfully, no swimming, biking, or running, unless you're both triathletes! Instead, pick three fun activities, and away you go.
It could be the aforementioned dinner, drinks, and movie, but it could also be axe throwing, go-carting, and a lunch date. Or record shopping, cocktails, and bowling. The world is your oyster! Personalise the experience and set goals for the evening!
4. Brunch or brinner
Breakfast foods have the best and widest selection of foods, and it's always fun to eat breakfast for dinner!
Why not plan a fancy brunch date, or choose a selection of your favourite breakfast foods to create a 3-course bringer, with a starter, main, and dessert.
5. Volunteer together
Those who like to get involved in social enterprises might like to get to know each other while helping out. You might consider volunteering at a homeless shelter, helping out at a food bank, or you and your date could help transform a community garden, planting vegetables and getting in touch with nature.
6. Go on a brewery tour or wine tasting
A few drinks are a great way of taking the edge off a first date. But it can be easy to have one too many, or drink too quickly due to nerves. However, a brewery tour or a wine or whiskey tasting event is a great way to get to know your date, have a drink or two without overindulging, and get a sense of each other's tastes.
7. Do something during the day
Nobody says that dates have to be at night! Why not see what local events are being held, from farmer's markets, exhibitions or museum events, a trip to the zoo, or maybe even a matinee showing of a favourite film where you'll have the whole cinema to yourself on a weekday.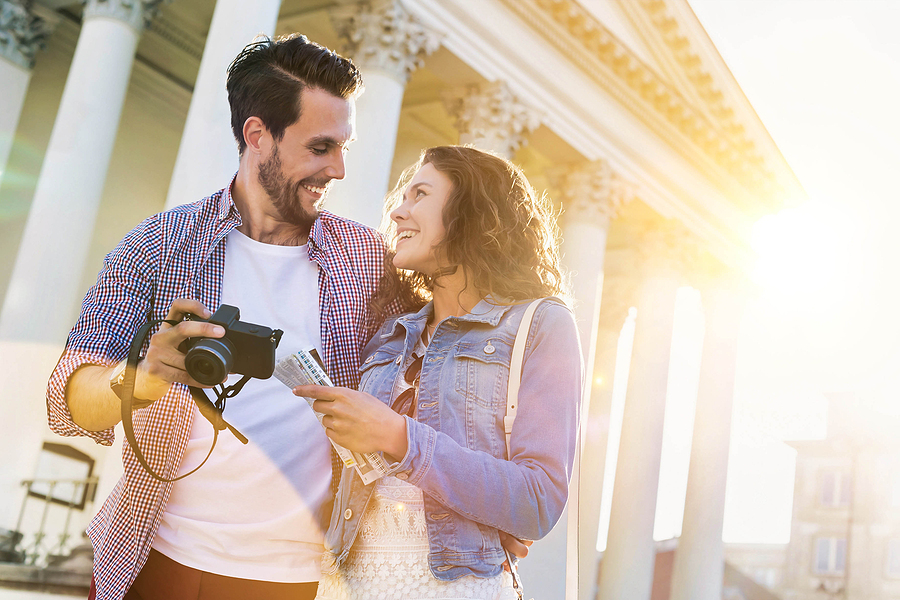 8. Take a class
Why not see if your date wants to attend a class with you, and you can both learn new skills together. You could spice things up in the kitchen with a cookery class at your favourite restaurant, or put your best feet forward and learn how to dance the tango together. Even if you don't already have these skills, it can be a fun activity, and an instant shared experience.
9. Go on a mini scavenger hunt
Take a walk around town, checking off items on a small scavenger hunt. Or, you could surprise your date with a hunt that leads to where you'll be having dinner.
10. Visit a fortune teller
Regardless of the relationship forecast, a palm reading or tarot card session can make a very memorable first date, and provide fuel for conversation over drinks afterwards.
11. Craft!
Seek out local workshops that will show you how to be crafty. You could try a pottery class, painting, photography, or carpentry. And if the date all goes well, you'll also have a keepsake of the day!
Whatever you decide to do, be imaginative, have fun, and get to know each other better outside your comfort zones!
If you're looking for a dating agency in West Yorkshire, visit our website today.