Lockdown Valentine – how to enjoy the day, whatever your circumstances
Who knew that we'd still be doing this a year after Coronavirus first hit? Well, none of us, which is good, because COVID fatigue is a real thing and we're all experiencing a little of it right now. That's what makes lockdown Valentine's day such a perfect opportunity to reinvigorate ourselves and restore our sense of optimism. The Select Personal Introductions guide to Lockdown Valentine's Day will make 2021 a year to remember for all the right reasons.
Solo Valentiners – this is your year!
Okay, so it's often considered lame to be alone on Valentine's Day, but in 2021 we're the responsible, resourceful ones, so let's make ourselves the rapturous ones too! If you're home alone on 14 February, then celebrate yourself.
Find something stylish but comfortable to wear, book yourself onto an online gourmet cooking session or self-massage tutorial and give yourself the Valentine's Day you deserve.
Why not play your favourite sounds and invest in a real treat – maybe childhood sweets from an online retro retailer (Rhubarb and Custard anyone?) hosting a multiplayer game, or treating yourself to an online masterclass in a favourite hobby or interest.
Just think of all the benefits … you get to eat all the chocolates, drink all the wine, hog the remote and even control the temperature in your space.
Un-bubble couple
First of all, bravo! We applaud anybody who's dating and maintaining a virtual relationship right now, whether that's because you're at an early stage or because circumstances require you to be apart. It's not easy – nothing so far in 2021 has been easy – but you're the ones who are giving us all hope for the future. What an amazing time to fall in love!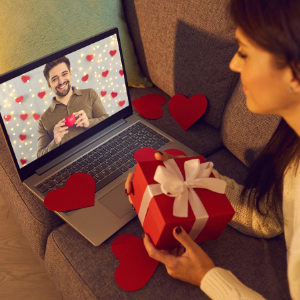 You're ready to synchronise your lifestyles but life doesn't permit it, so let us help you get closer. Netflix Teleparty is one way to live and love, together apart. Access via the Chrome browser you can literally synchronise your watching with a loved one, and chat online.
Ready to go to the next level? Want to put some heat into your virtual date? How about a synchro spa? Using Zoom or FaceTime, you can indulge in some mutual pampering.
Order each other a bunch of goodies to be delivered: scented (or fake) candles, body butter, bubble bath, face pack and massage oil and then set a time for your spa session. Run a big bubble bath each, get online and get naked! It's not for the fainthearted but it's definitely intimate!
Bubbled-up lovers
You're sharing a bubble, but your normal Valentine's Day activities aren't possible. No problem, we've got some isolation activities to make your day unforgettable.
If you're a movie fan, why not rent a home cinema kit? Some are delivered and others you have to go and pick up from a click and collect, but they usually include a big screen, mini projector and sound system. Depending on the company, they may also offer booze, snacks and even cushions! It's like having your own cinema at home, and you get to have the whole back row to yourself.
Want something a little more highbrow? If you used to take in a show for Valentine's Day, you don't have to miss out this year. Schemes like the National Theatre at Home allow you to buy a single performance or subscribe for a week or a year, to enjoy some of the UK's best theatre in your own home. Dress up for the First Night and maybe order some letterbox cocktails for the interval – the great news is you don't have to queue for drinks or the toilet and the performance won't start again until you're ready.