Common signs that your date isn't looking for a relationship
If you've been dating somebody for a while and aren't sure about how things are going, or whether there's a potential future then take a look at these common signs that your date isn't looking for a relationship.
They Can't Stay Off Their Mobile Phone
In this day and age, most of us are guilty of paying our phones a little too much attention. However, if it feels like you're date has barely looked up from their screen, or has spent the majority of the date scrolling, then it may be a sign that they aren't really taking your time too seriously or that they may not be looking to develop a relationship.
They Don't Attempt to Make Eye Contact
Eye contact and body language are huge indicators of whether somebody is romantically interested in you, or not. If you've been dating somebody for a while and they still don't attempt to make eye contact or give you any sign that they are really want to be there, then things may not be working out. Of course, some people are shyer than others or like to take their time before investing in somebody, but usually, if the spark is there and a potential relationship is on the cards with somebody, they'll probably be trying to hint at this rather than appearing to be disinterested or uncomfortable.
They Aren't Engaging in Conversation
If your date is no longer engaging in conversation, or never really did, then this is usually a common sign that they aren't looking for a relationship or for this to develop any further. It's vital to both listen and ask questions when dating so if they appear distracted, or disinterested in your life or unwilling to share information about theirs, then it's probably best to acknowledge this sooner rather than later.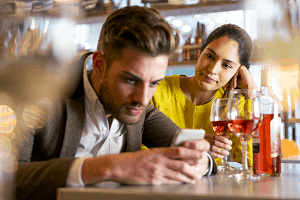 They Seem Shy About Commitment
Although it's important not to get ahead of yourself or have unrealistic expectations when dating, it can also be quite disheartening when somebody admits to not looking for anything serious. If especially if you've been dating a while, the other person seems to shy away from commitment, labels or any talk of the future then it's important you listen to the signs and decide what you want from the experience.
They Don't Try To Be Available
The early stages of dating are supposed to be fun, exciting and a little impromptu. It's essential to be understanding and respectful of each other's time. Still, if it seems like your date isn't often free, doesn't try to be available or always leaves it up to you to make the arrangements then they maybe aren't looking for a relationship.
It Just Doesn't Feel Right
It can sometimes be difficult to put your finger on exactly why you're date doesn't seem interested in you or why it isn't blossoming into a relationship, but if it just doesn't feel right then well, it isn't! Try to trust your gut instinct, and don't rush or force their commitment as it's unlikely to lead to a valued and healthy relationship.
Dating can be challenging to manoeuvre, but essentially both you and your date both deserve to know how you both feel and if there is potential for a relationship. At Select Personal Introductions, we help to match professional people who are seeking real relationships. So if you're looking for love in Manchester or the North West, why not give our experienced and friendly team a call on 0161 872 3900 for an informal and no-obligation chat.