How to get what you want romantically in 2021 
– 2020 is a year we're going to be happy to say goodbye to! But is 2021 the year you will find the relationship you've dreamed of? The Select Personal Introductions team has put together a master guide to help you find love in the New Year.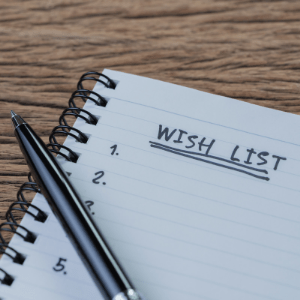 One of the most damaging aspects of online dating sites and apps is the tendency to go into it with a wish list. We have ideas about how our ideal partner will look, or sound, what they do for a living, and how the relationship should work. These unrealistic expectations mean that nobody lives up to our dream and the perfect partner might just flip past in a swipe left.
Of course, we have needs that should be met, but it's a good idea to make a list and share it with somebody you trust. Example – you might list 'should be a keen cyclist' when actually what you need is somebody 'willing to accept my cycle training three times a week and put up with there always being a bike in the front hall'.
An outside perspective from personal matchmakers can help you see where you're being too picky and add things to the list that you'd never consider, often putting together a pairing that makes no sense on paper, but works brilliantly in real life because people complement each other's styles rather than simply 'matching up'.
Feel Real
Again, when we separate out what looks good from what feels right, we tend to end up with a lasting, loving partnership. Sometimes that means forgetting what other people tell us: 'you need X' or 'I see you with Y in your life' and trusting our instincts.
One way to do this is to make a list of times we've felt happy and safe. What common denominators do they have? If you always feel great outdoors, your relationship needs that element. If you're happiest indoors watching TV, you'll probably need to share your life with somebody who's also a homebody. If it feels right, it's likely to work.
Stay Loose
When we meet somebody who fits our bill, we can get tightly focused in on that relationship. At Select Personal Introductions we've developed a great track record on turning first dates into long-term deals, but one thing we recognise is that the people who maintain balance find this easiest.

Don't shut down on your activities, shut out your friends and stay away from family – keep the rest of your life going even if you think you've met the love of your life. First impressions can change, and finding out how people cope under pressure or on a bad day can really change our attitude to them.
If you've already built them into your life, it can be more difficult to keep a clear vision of the positive and the negative and to be resilient and flexible yourself in the exhilarating early days of a new relationship.
Have Fun
Yes, it's what everybody says! But it's true – our matchmakers have profound experience of what makes a great first date, and it's definitely fun that counts.
If you take your date to something you know you'll enjoy, you're more likely to be enthusiastic and genuine, which are always appealing characteristics. Similarly, if your date is introducing you to something new, go with an open mind, prepared to have a great time. Even if the date doesn't work out, you'll probably come away with some fantastic memories and who knows, a new hobby or activity?