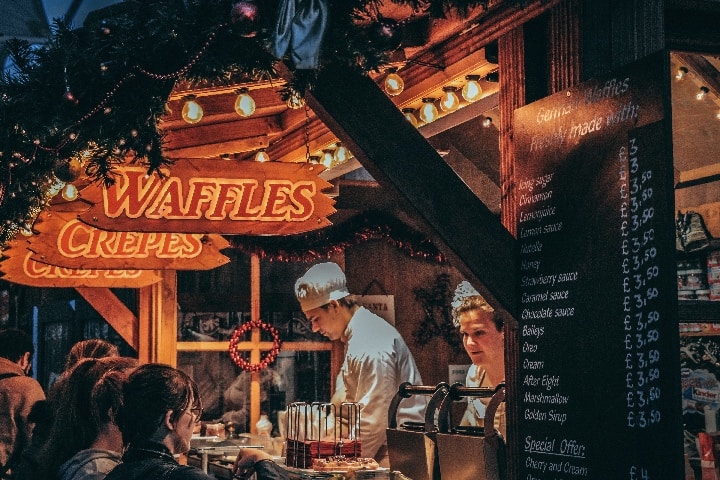 It's coming up to Christmas, so of course, our thoughts have turned to festive dates!
There are so many activities in the North West, we thought we'd take a whistlestop tour of some of the great events happening in our region over the festive season and beyond. We present to you, the 12 dates of Christmas! (singing is optional at this point)
Liverpool docks
https://albertdock.com/news/dock-lights-up-winter-nights
For the rest of the year, the docs will be lit up with different projections on the quayside of the Mersey Maritime Museum. There's also the chance to warm up and grab a bite to eat. This gets our vote as the fun and imagery will go right through to past valentines day. So if you fancy doing some impressive planning, why not make a date in your diary for then too?
Manchester Walking Tour
https://manchestersightseeingtours.com/tour/discover-manchester-walking-tour-morning/
There are a few sightseeing tours in Manchester, so there are plenty to choose from! This one caught our eye as they go past some of Manchester's finest architecture. If you fancy a stroll around the city, learning more about these wonderful places – then this could be a winner. After the ninety minutes are up, you could always stop off at our next suggestion below…
Manchester Xmas Markets
https://ilovemanchester.com/manchester-christmas-markets-2019-guide-times-location-map/
The Manchester Christmas Markets have been a fixture of the town centre for a number of years now. Every year they seem to get bigger and better, with eight sites and over 300 stalls across the town centre, you'll never be too far away from an interesting Christmas gift or two. Of course, if you fancy a mulled wine to keep you warm, they can cater for that too!
Winterfunland
https://www.winterfunland.com/
Another Manchester event which has been gaining popularity is Winter Funland. This is a family event, so ideal for those of you who have children. The fun is all undercover, so there is no need to worry about being cold!
Tatton Park
Tatton is another of our top places to visit at Christmas. There really is so much you can do there. If you wanted to walk around the fabulous gardens, or listen to carols in the stableyard, there is a lot to keep you entertained on your date. You can even adopt an animal. That's definitely not something you'll see on the high street!
Leeds Markets at Christmas
https://www.millsqleeds.com/christmasmarket/
There are so many different shopping arcades and markets in Leeds, you'll be spoilt for choice on what to do! We love the victorian splendor of the aptly named Victoria Quarter. With some impressive shopping there, you could be lost for hours just gazing in all the beautiful shop windows. Or you could venture into Harvey Nichols for an espresso and a bit of luxury food shopping. Whatever you pick, keep it fun and interesting.
Liverpool Xmas Ice festival
https://icefestivalliverpool.co.uk/
If you're feeling like getting your skates on (did you see what we did there?) then you need to pop down to Pier Head in Liverpool. There is a spectacular covered ice rink and the largest ice slide in the UK! If you have children, you can even pre-book a penguin skate aid before you visit, to make sure the little ones have lots of fun too. If that sounds like it may wear you out, then you can always sit down, with a warm throw and enjoy the hospitality in the Alpine Bar. Mulled wine anyone?
Christmas at Harewood – Leeds
https://harewood.org/whats-on/
Harewood House is one of Yorkshire's most wonderful places to visit at any time of year. Though this Christmas you'll get even more from your visit. Listen to the chatter that usually goes on after the house is closed. The statues will be singing! Not only that there will be all manner of workshops and other events. We think this would make an amazing day out, especially if you fancy something where you can be both indoors and outside in the fresh air.
Lightopia
https://www.lightopiafestival.com/
If you're looking for something spectacular to do for your date, then take a look at Lightopia. Held in Heaton Park, the world's largest municipal park, this promises to be an amazing light show! With live music and entertainment, a water show and a light trail there will be lots to entertain you and your date.
Chill Factore
So some of you may be looking for a wee bit more action than the rest of the ideas we've listed here, so what about going to the Chill Factore? Yes, it's cold in there, but if you wrap up warm you can have plenty of fun on the slope, or what about a skiing lesson?  Not sure about that? Well there is always a change of some apres ski (without the ski) at the various eateries on site.
Chester Zoo
https://lanterns.chesterzoo.org/
This Christmas, something magical is happening at Chester Zoo as their enchanting festive event, The Lanterns, returns for 2019.  The zoo will be transformed into a spectacular wonderland, full of sparkle, illumination and a sprinkling of snow!
Set off on The Great Christmas Expedition to discover exotic illuminated wildlife and animal characters in nine different fantastical worlds; each one different to the last – from traditional festive scenes to colourful animal-inspired illuminations.  This year the updated route will take you on a journey through new worlds that will have your imagination running wild.
You'll be transported to the bottom of the sea in Underwater where you'll need to dodge the jellyfish and fish before coming face to face with a HUGE octopus!  Then make your way through Tropical Dreams which will be a dramatic centrepiece, complete with new beautiful lanterns. Then suspend belief as you take the Night Sky Adventure and travel through the clouds and stars, under the moonlight.
We've saved our best for last… How about shopping for the 'best' Christmas sweater!
No Christmas would be complete without a Christmas jumper. Having a laugh is a great ice-breaker and humour helps to keep a relationship going. Set each other a budget of, say between £5 and £10 – it's up to you. (Yes you can get a Christmas jumper for that much & on the high street).  Go shopping with each other to see who can find the 'best' Christmas sweater. Yes, you can take the word 'best' to mean whatever you want. Remember, it's not about buying the jumper, it's about having fun finding it.
If you have some brilliant date ideas, then please share them with us over on our social media, we'd love to hear from you!